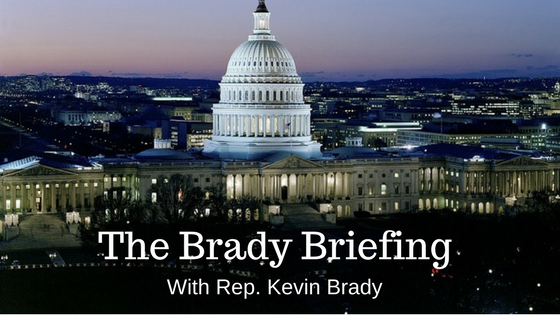 The Latest Brady Briefing is on Trade with China, Changes in Tax Code, and More
Reading Time:
3
minutes
The Brady Briefing is a regular feature of USA Daily Times.  In this issue, Rep. Kevin Brady (R-TX) will examine the GOP's efforts to develop a balanced approach to trade with China, the impact trade policies have on his state of Texas, and celebrates the changes in the US Tax Code.
By U.S. Congressman Kevin Brady (R-TX)
In celebration of National Small Business Week, I spent last week traveling around the Eighth Congressional District and surrounding area to meet with small businesses and their workers to hear from them directly about how the new tax law is impacting their lives.
Russell Marine: Russell Marine, located on the Houston ship channel and owned by Mr. Russell Inserra, is a great example of a local small business that is reaping the many benefits of tax reform and passing them on to their workers. His employees saw an average pay raise of 10 percent, and they also received bonuses totaling $900,000.
They're also investing over $5 million in new equipment to grow their business and meet the demands of an economy that is booming. And to be ready for the new workers they plan on hiring, they're building a new headquarters, complete with a training center for more employees. When Mr. Inserra was asked how tax reform is helping his business, he responded, "This will be our best year ever."
***
Steely Lumber: I also visited Steely Lumber, a successful, family-owned business that has had sawmills in Walker County since 1896. Their workers sat down with me and shared their experiences with the new tax law before giving me a tour of their facility.
"Tax reform has been great for our company," owner Kelvin Steely told me, noting that being able to write off the purchase of new equipment is giving them the ability to grow and keep up with incoming orders. One employee shared that she's looking to become a first-time home owner because of the changes she sees in her paycheck and in the economy in general.
***
Kennedy Fabricating: More good news is coming out of Kennedy Fabricating in Splendora, which provides fabricated steel materials to many industries. Despite concerns about proposed tariffs on steel, they shared how tax reform is making a difference for their small business, which employs 350 people.
Owner and President Kevin Kennedy, who took over the business from his father, said theTax Cuts and Jobs Act means 'new jobs and new work.' His team is optimistic about the future of their small business as they see domestic and foreign investment increasing due to tax reform, spurring new orders for more of the products they manufacture in the USA.
I hear small business success stories like these repeated across the country, but it's particularly heartwarming to learn that the people I represent are benefiting directly. TheTax Cuts and Jobs Act was all about deciding if Washington or the American people know better about how to spend your money. I'll choose you, every time.
***
To close out a fantastic road trip last week we had even more great news on the jobs and economy front. Unemployment in the United States dropped to 3.9 percent, the lowest since 2000. Even better, hourly earnings are up 2.6 percent compared to this time last year. In fact, we're seeing the biggest wage increases in over a decade.
President Trump and Congressional Republicans' efforts to cut taxes for all Americans is working as intended, and small businesses are reaping the benefits.
Paychecks are going up. Jobs are coming back from overseas. And confidence on Main Street continues to grow. And we're just getting started. This new tax code is built for growth, and built for the long-term. I think the best is yet to come.
Kevin Brady is Chairman of the powerful House Ways and Means Committee.