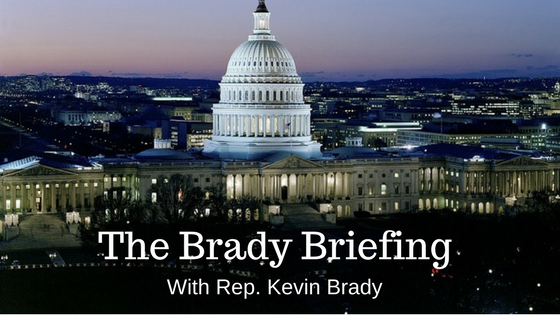 The Brady Briefing: Trump Economy's Job Creation Continues to Defy Expectations
Reading Time:
2
minutes
The Brady Briefing is a regular feature of USA Daily Times.  
By U.S. Congressman Kevin Brady (R-TX)
Joe Biden received a whopping four Pinocchio's from The Washington Post for claiming that Republican tax cuts only went to corporations and the richest Americans. It's more of the same Democratic narrative, peddling falsehoods about America's booming economy.
Released last week, the April jobs report crushed all expectations – 263,000 new jobs, the seventh straight month of wage growth, and the lowest unemployment level since 1969. How can Joe Biden and his party of economic deniers continue to argue with the facts?
***
Families have been asking lawmakers to simplify the way their children are taxed on unearned income. While we worked to do so in the Tax Cuts and Jobs Act, we recognize that military survivors' benefits are different than gifting stocks and bonds.
Last week, bipartisan legislation was introduced to provide tax relief to children who have lost a parent serving in the military. Our Gold Star Families should keep every dollar that they deserve, and I'm confident that members on both sides of the aisle will support the family members of those who made the ultimate sacrifice.
***
At a $32 trillion price tag, Medicare For All is a frightening government takeover of health care that would kick 158 million Americans off their current health plans and severely limit access to local doctors and hospitals – life-threatening news for anyone who lives in rural America.
I sent a letter last week to Chairman Neal requesting that the Ways and Means Committee hold a hearing on the proposed legislation. With so much at stake – more government control, seniors losing Medicare advantage, taxes doubling – the American people have a right to see exactly how this radical proposal would impact them.
RELATED:
***
Democrats recently passed a resolution to force President Trump to remain part of the Paris Agreement, which would cost the U.S. $2.5 trillion and nearly 400,000 jobs. Electricity costs for families would drastically increase, and domestic innovation would be stifled.
We agree that we need to find smarter ways to lower emissions and ensure clean air and water for future generations. However, we must also consider any potential impacts on American jobs and our economy. We cannot trade America's prosperity, security, and ingenuity for an agreement with no proven environmental benefits.
***
This week, the Ways and Means Committee will hold a hearing on paid family and medical leave. Republicans know that paid leave is important for new families, and the Tax Cuts and Jobs Act established federal policy for paid leave for the first time in U.S. history.
However, this Democratic proposal moves our policies in the wrong direction. The best thing for families is to have less – not more – government involvement in their paychecks and private lives. I'm committed to finding a solution that strengthens families' economic independence and increases the availability of paid leave, without crowding out those options with a public mandate.
***
During the recent District Work Period, I met with the Greater Shepard, Coldspring, Greater East Montgomery County, and Greater Magnolia Chambers of Commerce to discuss the incredible economic growth in the district and other issues such as immigration, infrastructure and drug pricing.  At Inspiration Ranch in Magnolia, I saw the incredible difference their equine therapy program is making for those with disabilities or mental health disorders. And, I saw just how bright our future is when I presented awards at the Magnolia ISD Student Leadership Banquet.
Kevin Brady is the ranking Republican of the powerful House Ways and Means Committee.