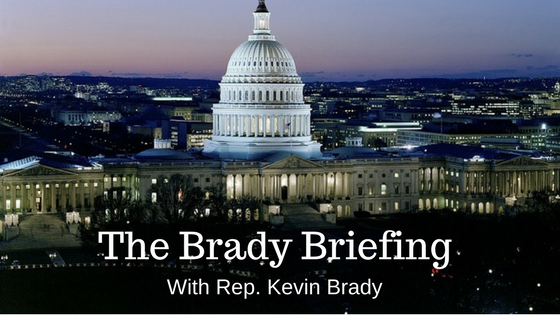 Brady Briefing: One Year Later – Remembering the Congressional Baseball Shooting
Reading Time:
3
minutes
The Brady Briefing is a regular feature of USA Daily Times.  In this issue, Rep. Kevin Brady (R-TX) remembers the tragic shooting at the Congressional baseball game a year ago, addresses America's growing opioid crisis, PTSD awareness, and (of course) Father's Day.
By U.S. Congressman Kevin Brady (R-TX)
A little over one year ago, I was in the hospital standing by the bedside of one of my closest friends and roommate in Washington, Louisiana Congressman and Majority Whip, Steve Scalise. A couple of hours earlier a gunman—bent on murder—had taken aim at members of the Republican baseball team who were practicing for the annual Congressional Baseball Game for Charity, a century-old bipartisan tradition. Steve was one of his victims, having been shot in the hip.
The shooter had a list of Republican lawmakers in his pocket to aim for and plenty of ammunition. Had it not been for the quick reaction and remarkable courage of U.S. Capitol police officers, Special Agents Crystal Griner and David Bailey, the tragedy would have been far worse. Thankfully everyone who was injured that day has recovered and there was an emotional, life-affirming reunion during this year's game. At the end of the day, this is more than a game — it is a chance to set aside politics for a few hours and show the nation that more unites us than divides us. And a great reminder that hatred and violence are not the answers to the issues we face as a nation, and that life is precious and should be celebrated.
***

The House of Representatives voted on and passed 39 opioid-related bills from seven different House committees last week. The bills address combatting the opioid crisis through prevention, treatment and recovery, protecting our communities and fighting fentanyl and illicit drug use. Importantly, some bills address treatment options for America's veterans and peer-to-peer counseling for one of our most impacted communities.
This week, the House will vote on Ways and Means bills that remove barriers to prevention and treatment for opioid dependence in the Medicare program. More than 42 million Americans receive prescriptions through the Medicare program, and Congress has a duty to ensure these patients don't fall victim to the opioid crisis.
RELATED: Chairman Brady discusses the successes of sweeping tax and welfare reform. 
***

June is PTSD Awareness Month—set aside with the purpose to encourage public awareness of Post-Traumatic Stress Disorder, and the available treatments and support. Many of our Veterans suffer from PTSD, but thankfully there are several organizations ready to help. Calvary Steel Ministries in Conroe has a program that is led by fellow combat veterans and spouses that helps veterans suffering from PTSD to recover and get back on their feet, using a Christ-based approach. They can be reached at 936-494-5775. The VA also has programs available to assist struggling veterans, as well as the Veterans Crisis Line, 1-800-273-8255. If you or someone you know is suffering from PTSD, I encourage you to reach out for help.
***

On Father's Day, my mind always goes to my Dad and how much I miss him. I am so grateful for the example he set, whether it was in his service to our nation in the military, our community in the courtroom, or in our home as a wonderful father and husband. I know he would have been especially proud of my brother Matt's distinguished career in the U.S. Army, and he and my Mom both were sorely missed at Matt's retirement ceremony last week. Though we lost my Dad's daily presence many years ago, his influence is felt every single day, especially as I parent my own two sons.
Hoping that every dad out there had a very Happy Father's Day.
Kevin Brady is Chairman of the powerful House Ways and Means Committee.