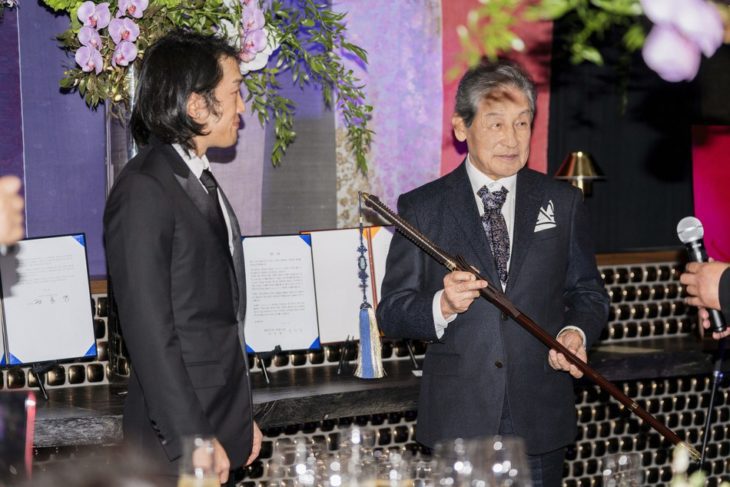 Reading Time:
2
minutes
The Imperial Family of Korea has a new crown prince. His Imperial Highness King Yi Seok, the only remaining heir living in Korea to the Joseon dynasty throne which ruled over the country for five centuries, named Crown Prince Andrew Lee as his successor on Oct. 6 during a Passing of the Sword ceremony inside Crustacean Beverly Hills, California.
An Imperial Family Crowning Ceremony in Jeonju, South Korea, the ancestral home of the Lee royal family, will follow next year.
Surrounded by both his wife, Princess Nana Lee, his family and Crown Prince Yi Seok's family and friends, as well as South Korean dignitaries and City of Los Angeles officials, Andrew Lee — who is Korean American — swore upon the symbolic sword from Yi that he "will commit to the values of love, human rights, peace and freedom for humanity to the best of my ability."
Andrew Lee is the founder of Private Internet Access, a leading VPN service. Yi Seok, 77, is the nephew of King Sunjong, Korea's last monarch, and the son of Yi Kang, the fifth son of King Gojong, the 26th Joseon king.
"As we all understand, we have a sad history in Korea," said Young-dal Chang, chancellor of Woosuk University, a Jeonju institution. The Korean empire was overtaken by Japanese colonial rule in 1910. "Even though we did have a tragic end to the imperial family's history, today I feel we have a restart, a restoration."
Los Angeles Supervisor Mark Ridley-Thomas and City Councilmembers David Ryu, Nury Martinez and Marqueece Harris-Dawson presented Andrew Lee with a proclamation in honor of the event, and said they represented both the city and county of Los Angeles, which together comprises some 10 million people. "We respect tradition and celebrate history," Ridley-Thomas said.
The ceremony also included congratulatory remarks from Bermuda Premier David Burt; Congressman Kwang-soo Kim, who represents the district in which Yi Seok currently resides, and which is hometown to Andrew Lee's father Jay Lee; Los Angeles Korean Consul General Wan-joong Kim; as well as those by Korean officials who were unable to attend, including congressmen, the governor of Jeolla North Province and the mayors of the cities of Jeonju and Namwon.
The Joseon dynasty, founded in 1392, was known as the Hermit Kingdom for its isolationist policies during its long reign. Notable inventions under its rule include the Korean alphabet Hangul, by King Sejong; the Jobo, the first newspaper in the world; and military weapons, including the bulletproof vest, the time bomb and armored warships.