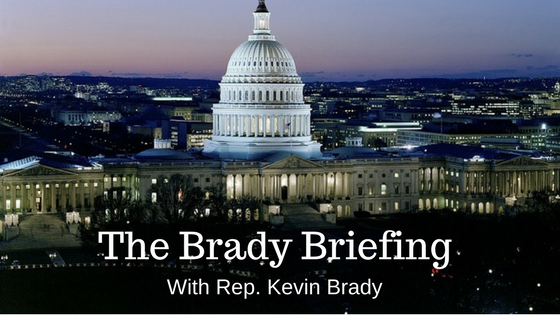 The Brady Briefing: The Continued Need for Increased Border Security, and a Hurricane Harvey Update
Reading Time:
2
minutes
The Brady Briefing is a regular feature of USA Daily Times.  In this issue, Rep. Kevin Brady (R-TX) focuses on the changes in leadership in the US House, border security, and Hurricane Harvey support
By U.S. Congressman Kevin Brady (R-TX)
Newly elected Speaker Nancy Pelosi and Democratic Leader Chuck Schumer should stay at the table with President Trump and find common ground that secures our border, funds crucial disaster relief, and reopens our government. No one should work without pay, including many of our federal workers who rely on that steady paycheck to provide for their families.
That's why I supported legislation before the government shutdown to fund $5.7 billion for border security, another $8 billion for disaster relief, and to reopen our government.
***
Let's be clear: Our U.S. border is not secure. Texas – and especially our Houston region – is paying the price.
Houston is the top hub for sex and human trafficking in the nation, with 300,000 Texas victims – 80,000 of them underage children forced into sex slavery.
We're all too familiar with the deadly violence caused by MS-13 gang members, many of whom come from Central America through the southern border – an estimated 800 in the Gulf Coast region and even more throughout Texas.
The illicit drug trade is behind much of this violence, an issue that devastates families regardless of race, income or community. Deaths from drug overdoses in Texas have nearly tripled over the last 18 years, and cocaine and meth are the leading causes with new, more potent strains developed by Mexican cartels.
Pause for a moment and think about this: 539 Texans have been killed by illegal immigrants since 2011. Five hundred and thirty-nine. That's not just a number – it's an immoral loss of life.
For those Democrats who think this is all a political game – who cheer and applaud when Speaker Pelosi laughs and insists "not one dollar" for border security – tell that to the 11-year-old girl from Montgomery County who was repeatedly sexually abused by an illegal immigrant. He had been deported several times – and returned easily to ruin this young girl's life.  Jose Hernandez was arrested just last week for his predatory and vile sexual crimes.
President Trump is asking for one-tenth of one percent of the federal budget for a more secure southern border – more barriers where it makes sense, more technology where that works, more agents, court funding, and more money to handle the humanitarian crisis on the border from the thousands of caravan migrants overwhelming our U.S. system.
He isn't insisting on all the funds this year. He's open to Democratic ideas on how to better secure the border. What he will not do is back down from his obligation to keep our families and our neighborhoods safe. The President is right, and I stand behind him.
I'm hopeful Speaker Pelosi, who is being held hostage by her most extreme-left members, has the courage to find a compromise with the President so that our nation can be both safe and fully functioning.
***
In Congress, I fought hard to help secure the largest disaster recovery package in history to help our communities rebuild from devastating Hurricane Harvey. I have been reassured directly by the White House that Corps of Engineers funding for Harvey projects are safe from any supposed efforts to fund border security barriers and security.
Kevin Brady is the ranking Republican of the powerful House Ways and Means Committee.