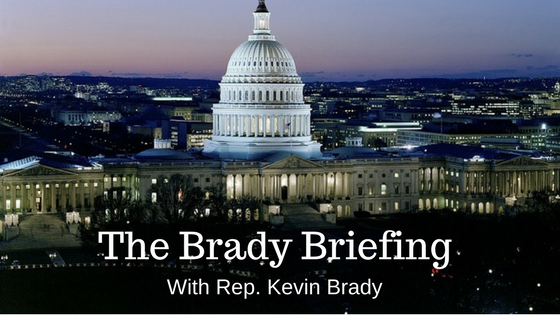 The Brady Briefing: Job Creation, Wage Growth, Veterans Day, and More
Reading Time:
2
minutes
The Brady Briefing is a regular feature of USA Daily Times.  In this issue, Rep. Kevin Brady (R-TX) focuses the historic levels of job creation, the growth in wages, the continued concern about spree violence, and celebrating Veterans Day
By U.S. Congressman Kevin Brady (R-TX)
"Jobs smash estimates with gain of 250,000, wage gains pass 3% for first time since recession"  What an amazing headline from CNBC last week and there is no doubt about it—the American economy is booming. Across the nation, we are seeing measurable results and real improvement for the paychecks of America's workers and families.
Wages and salaries increased by 3.1 percent, the highest level in a decade. Unemployment has dropped to the lowest level since 1969. Consumer confidence has jumped to an 18-year high. And because of our stronger economy, Medicaid enrollment fell for the first time in over a decade. And those are only a few of the examples.
Since the Tax Cuts and Jobs Act was signed by President Trump, more than 2,100,000 jobs have been created. With all the great economic news, you must ask yourself, why anyone would want to change course and go back to the bad old days of more burdensome regulations, higher taxes and stagnant growth?
***
We're seeing improvement in the Lone Star State too. Since the Tax Cuts and Jobs Act was signed into law, Texas median wages have increased by $4,792. The unemployment rate has dropped to 3.8 percent—the lowest rate in four decades. Manufacturing jobs have increased, and the number of Texans living below the poverty line is at the lowest level in recorded history.
These numbers don't lie. Our goal has been, and always will be, to make our government and our economy work for the people. American workers deserve to keep more of what they earn. We promised economic change, and we've delivered it. But we're not done yet. To keep this momentum going, we are focused on making the tax system better for hardworking middle-class families each and every year.
***
The recent acts of political violence in our nation are unacceptable. I fully condemn these despicable actions and the hatred that fuels them. Physical violence should never be the way to settle our disputes, and we will stand united against anyone who seeks to use violence and terror against us.
***
We celebrate Veterans Day every year on November 11th, the anniversary of the day when the guns fell silent — ending WWI, a war in which the loss of life was so horrific it was referred to as "the war to end all wars." Unfortunately, wars did not end and the world has remained a dangerous place, made safer by those who volunteer to go in harms' way so that we can live in peace in America. This week I encourage everyone to reflect on our veterans, their families and their sacrifice, and to take a moment to thank the brave men and women who have risked their lives while serving in uniform to protect our nation.
Kevin Brady is Chairman of the powerful House Ways and Means Committee.