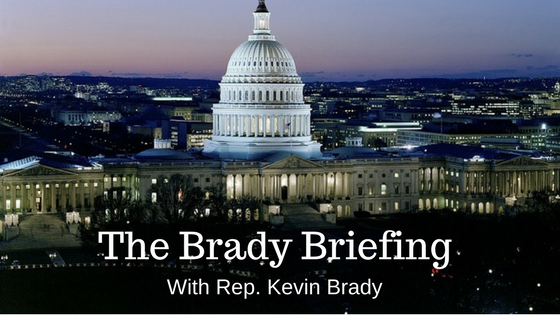 The Brady Briefing: 2018 in Review, 2019 Preview
Reading Time:
3
minutes
The Brady Briefing is a regular feature of USA Daily Times.  In this issue, Rep. Kevin Brady (R-TX) focuses on the year that was and his thoughts on how he sees 2019.
By U.S. Congressman Kevin Brady (R-TX)
Despite the way it ended, the 115th Congress was enormously successful and productive. Under Republican leadership more than 1,000 bills were approved by the U.S. House and sent to the Senate – the majority of them bipartisan. Over 240 of these became law, including the historic Tax Cuts & Jobs Act I authored – the first major reform of America's outdated, broken tax code in three decades.
As a result of this hard work, Americans across the country are better off now.
Despite the recent volatile stock market, the U.S. is set for the first year of 3% growth in a decade – something President Obama never achieved. Unemployment is at its best in nearly half a century and paychecks are growing at the fastest pace in a decade. America recaptured the title of most competitive economy in the world.
Thanks to tax cuts and balanced regulation, families are keeping more of their hard-earned paychecks and local businesses are eager to hire again.
Congress and President Trump funded the largest rebuilding of our U.S. military in nearly 15 years, including the largest pay raise in nine years for our brave troops. We funded the Veterans Administration at a record level, and President Trump signed into law more than 20 bills focused on helping our nation's veterans.
We worked together to pass critical bipartisan legislation to combat the opioid crisis that is devastating families across the nation. And I'm especially proud of the way Texas Republicans and Democrats came together to help our communities recover and rebuild from one of the most devastating storms in history – Hurricane Harvey.
And with over 700 bills stuck in the Senate – including the one I authored to repeal Obamacare and reform Medicare – it's amazing to think what else we might have accomplished if the Senate was not beholden to an arcane rule that allows the minority party to obstruct and kill common-sense solutions.
***
This partial government shutdown is unnecessary. The border is not secure – not from drugs, not from sex trafficking, violent gangs or violent criminals. More must be done. The U.S. House passed a common-sense solution that funded our government, $5.7 billion for a border wall/barrier, and over $8 billion for crucial disaster relief for hard-hit communities, including several here in Texas.
Unfortunately, Democrats in the House and Senate demonstrated political gamesmanship at its worst and put partisanship ahead of national security. When they had the choice between an open government or open borders, they pandered to their most extreme voices – letting their disdain for President Trump cloud their judgment, shut down the government and put America's national security at risk.
***
I find this deeply disturbing. Although they promised during the election to govern from the center, it's clear the new Democratic majority will be held hostage by the extreme left. In recent weeks Democrats killed bipartisan disaster tax relief for 14 states, including for the historic flooding in Texas. They derailed new bipartisan reforms to help local businesses and workers save more for retirement, health care and education. They stopped the first bi-partisan reforms of the IRS in two decades – a bill that had passed the House earlier nearly unanimously. They blocked suspending some of ObamaCare's worst taxes on families and businesses – which they had joined Republicans in earlier years to do.
Under Democratic leaderships, look for even more dysfunction.
Kevin Brady is Chairman of the powerful House Ways and Means Committee.