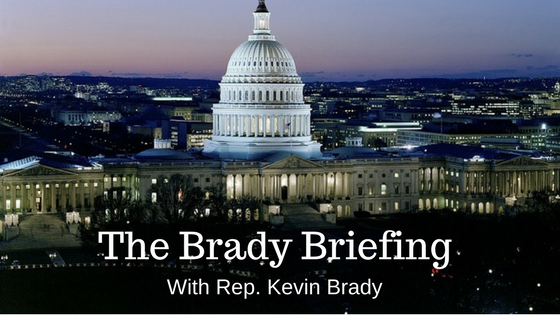 The Brady Briefing: The Integrity of the House is Under Attack
Reading Time:
3
minutes
The Brady Briefing is a regular feature of USA Daily Times.  
By U.S. Congressman Kevin Brady (R-TX)
For the first time in history, Democrats are circumventing the democratic process in the House of Representatives and are replacing the people's voice with the voice of a chosen few. Their partisan lawsuit to force President Trump to release his private tax returns is dangerous – which is why I recently introduced a resolution to preserve the integrity of the House.
This resolution would ensure that each and every Member of Congress has the opportunity to vote on authorization of the lawsuit. We cannot stand idly by as House Democratic Leadership seeks to undermine our democratic process, and this resolution would guarantee that the American people have a chance to voice their opinions. Weaponizing our tax code serves no legislative purpose, and the personal privacy of taxpayers must be protected against this dangerous precedent.
***
Last week, President Trump signed an executive order to advance kidney health in America. The executive order seeks to raise awareness for kidney and related diseases, expand home dialysis options for patients, and enable innovation in care delivery and new therapies. With nearly 37 million Americans currently living with chronic kidney disease, this executive order is an important step in the right direction and I applaud this initiative.
As the Ways and Means Committee continues to focus on improving health care for all Americans, I thank the President for prioritizing the wellness of the American people and look forward to working with him as we continue to advance these objectives.
***
For the past 58 years, the National Defense Authorization Act has been a bipartisan bill that fulfills Congress' most important constitutional duty: provide for the common defense.
Unfortunately, this year, House Democrats introduced a partisan plan that underfunds our national defense and harms previous bipartisan efforts to rebuild our military. Our men and women in uniform deserve better, and I call on my House colleagues to work with the Senate to ensure our troops have the resources they need to defend our nation.
***
This week, House Democrats will introduce an act to force a minimum wage mandate on small businesses around the country.  This mandate would have a chilling effect on small business growth and investment, resulting in a reduction in income and an increase in prices, ultimately hurting consumers.
According to a recent report by the Congressional Budget Office, this act would erase 3.7 million jobs, cause a loss of $53 billion in real income for small businesses and workers, and cut the family income for four out of ten minimum wage workers.
Thanks to Republican-led tax reform, unemployment is at historic lows and wages are rising.  In June alone, 224,000 jobs were added to the economy and wages grew by over 3%.  In addition, Ways and Means Republicans are working to draw more workers off the sidelines and into the workforce.  However, this bill would undo the positive impacts of those policies and drive many employers to reduce hours, productivity, and ultimately, as CBO highlighted, eliminate jobs. Bottom line – our economy is booming right now. Why would Democrats want to introduce measures that stop our country's economic growth in its tracks?
***
This week, we celebrate the 50th anniversary of the Apollo 11 moon landing. In the greater Houston area, we've seen the positive influence of our nation's space program first-hand, and I look forward to the next 50 years of exploration, innovation, and inspiration.
Kevin Brady is the ranking Republican of the powerful House Ways and Means Committee. This column is a regular feature of USA Daily Times.