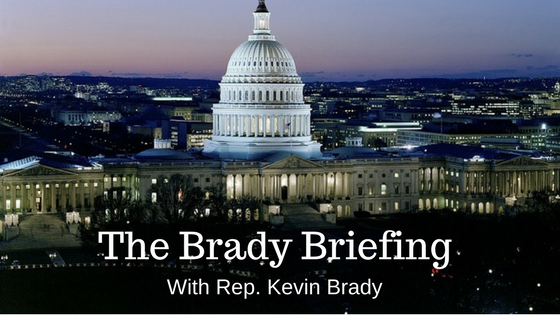 The Latest Brady Brief Celebrates Jobs
Reading Time:
2
minutes
The Brady Briefing is a regular feature of USA Daily Times.  In this issue, Rep. Kevin Brady (R-TX) will focus heavily on numerous efforts to increase jobs and reduce poverty, increase income for the military, trade relations with US allies, drug addiction in the US, and the President's historic "Right to Try" legislation.
By: U.S. Congressman Kevin Brady (R-TX)
The Department of Labor issued a report last week that the unemployment rate dropped to 3.8 percent, the lowest it's been in 18 years. With almost one million jobs created since the Tax Cuts and Jobs Act was signed into law, there's no question that tax cuts are having a positive impact on Main Street and American families. But despite record low unemployment rates, there are still millions of Americans on the sidelines.
The Ways and Means Committee, which I lead, voted to approve legislation to help close this jobs gap. The JOBS for Success Act empowers states to help people find – and keep – a good-paying job by increasing access to job training and child care. The message we are sending to those not working is simple – "We need you!" We need your talents, abilities and innovative spirit. Our families, our communities and our nation will all benefit as more Americans return to work, breaking the cycle of poverty and government dependence.
***

The House of Representatives recently passed legislation that will fully fund our military. I voted for this important bill because my number one constitutional duty is to ensure that the U.S. military has the resources they need to protect our nation. This legislation will improve military readiness by providing our troops with the training, equipment and support they need to be ready for an increasingly dangerous world. It also authorized a 2.6 percent pay raise for our service members – the largest in nine years – giving our troops and their families more peace of mind about their financial security.
***
President Trump is right to go after China and hold them accountable for their unfair trade practices. However, I have deep reservations about imposing tariffs on our friends and allies—Canada, Mexico and the European Union. These actions will hurt U.S. consumers and our ability to sell more 'Made in America' products to customers in these international markets. I will continue to work with the Administration and encourage them to find a solution that punishes the bad actors, while not jeopardizing American jobs, workers and our strategic security and trading partnerships.
***

More than three out of five drug overdoses in our nation involves an opioid. This is a crisis that leaves no community untouched and is destroying far too many families. The Ways and Means Committee is working to combat this crisis and recently passed several bipartisan bills that will enable federal, state and local partners to work together to help impacted families. Our solutions include: encouraging the use of alternative treatments, increasing provider education and assisting with detection of those who are at-risk. We will continue to fight this deadly epidemic and ensure Americans get the help they need.
***
President Trump recently signed into law legislation that gives new hope to many patients and families who are suffering from a terminal illness. The Right to Try Act gives these terminally ill patients a fighting chance by allowing them access to experimental medical treatments, instead of having to travel out of the country to look for a cure. I was proud to support this important legislation.
Kevin Brady is Chairman of the powerful House Ways and Means Committee.