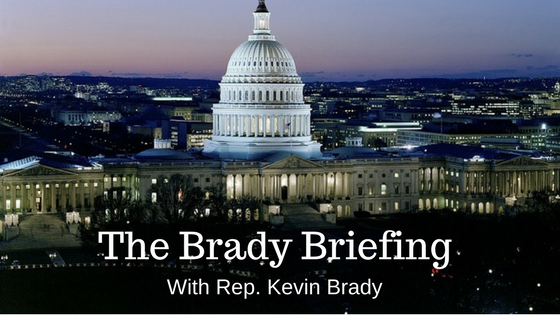 House Democrats Offer an Alarming Agenda
Reading Time:
2
minutes
The Brady Briefing is a regular feature of USA Daily Times.  In each issue, Rep. Kevin Brady (R-TX) discusses the latest headlines from Washington, DC and his state of Texas.
By U.S. Congressman Kevin Brady (R-TX)
Priorities reveal everything. HR 1 is reserved each session of Congress by the majority party for the biggest change they champion for America.
Last session, HR1 by House Republicans was reserved for the first major tax reform in more than three decades. President Trump signed the Tax Cuts & Jobs Act which jump-started the economy, lowered unemployment to historically good rates, and let families and local businesses keep more of what they earn.
Under Speaker Nancy Pelosi, HR1 is dedicated to a massive transfer of election control to Washington.
The Democrats' bill passed the House last week. It features near-complete federal control of state and local elections, unconstitutional limits on free speech (even the liberal ACLU opposed it as unconstitutional), and taxpayer subsidies for political attack ads and hiring campaign gunslingers.
Can you imagine your tax dollars transferred directly into a nasty political campaign for a candidate you don't support? They also create a new voucher system where Americans get tax dollars to use for campaign contributions. So instead of your tax dollars going to education, to cure cancer, to support our troops, or secure our nation, they instead pad the campaign coffers of the members of Congress who supported HR1.
In the end, HR1 simply rigs the system for one political party over another. I opposed it, as well as an amendment Democrats proposed that lowers the voting age to 16 as San Francisco is considering. Our young people have bright futures, no doubt, but the current age of 18 seems about right.
* * *
Freshmen Democrats, alarmed at being required to vote on Republican amendments – like those condemning anti-Semitism and requiring undocumented immigrants trying to buy firearms illegally to be reported to law enforcement – are urging Speaker Pelosi to impose a 'gag rule' on House Republicans. They want to block House floor votes on minority motions, a right granted the minority party for over 100 years.
This is an outrageous and unprecedented attempt to silence the voices of the minority party. When Speaker Pelosi recently accepted the Speaker's gavel she famously pledged a 'new dawn of transparency" in the House. Let's see if she keeps that pledge or bows to the increasingly dangerous demands of her proudly socialist freshmen class.
* * *
While too much time is being wasted in Congress on the rush to impeach President Trump, Republicans in the House are focused on real priorities – like infrastructure.
Because of tax reform, the U.S and Texas economies are booming. That requires even more roads, modern ports, expanded rail and waterways, more pipelines, the latest telecommunications infrastructure, and investments in smart technology. Our Ways & Means Committee focused on this priority in a congressional hearing last week – the same week news reports show Montgomery County commuters pay over $10,000 a year in commuting costs.
The key question is how to finance it. Democrats and Republicans must work together. A good place to start is making sure we streamline permits and cut unnecessary red tape that can delay crucial projects for years and drive up costs by millions of dollars.
Kevin Brady is the ranking Republican of the powerful House Ways and Means Committee.