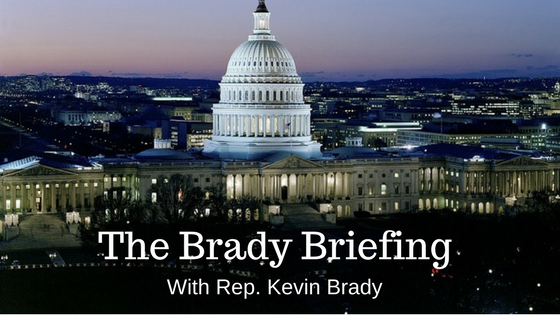 The Brady Briefing: Tax Reform 2.0, the Opioid Crisis, Trade, and Veteran Issues
Reading Time:
3
minutes
The Brady Briefing is a regular feature of USA Daily Times.  In this issue, Rep. Kevin Brady (R-TX) focuses on continued progress for Tax Reform 2.0, the progress in dealing with the opioid crisis, the trade situation with China, and veteran issues.
By U.S. Congressman Kevin Brady (R-TX)
The House Ways and Means Committee, which I lead, voted to approve Tax Reform 2.0 earlier this month, clearing the way for the House of Representatives to consider the three-bill package this week and keep up the momentum created by the Tax Cuts and Jobs Act.
The first bill will make permanent the individual and small business tax cuts, ensuring that families keep more of their hard-earned paychecks and giving local companies the certainty they need to invest in their workers and grow their business. The nonpartisan Tax Foundation has estimated that an additional 1.5 million jobs will be created, wages will continue to grow, and our GDP will increase by 2.2 percent.
The second bill will help families save earlier in life and more over time for retirement and education. It also allows small businesses to join together to provide retirement plans to their workers. The third bill will spur innovation by allowing new businesses to write off more of their initial start-up costs, helping them move from the kitchen table to Main Street.
It's exciting to lead this cultural shift in Washington, which plans to look at the tax code every year—not just once a generation—to consider how we can do things better. American companies do this every day to stay competitive and Congress should work to foster an environment that helps our businesses innovate, compete and win.
*****
Last week, the Senate voted almost unanimously to pass a package of bills focused on ending the opioid crisis that is hurting so many American families. Included in these bills was the Synthetics Trafficking and Overdoes Prevention Act, or STOP Act, which originated out of the House Ways & Means Committee.
The STOP Act takes important steps to keep fentanyl off our streets by preventing the shipment of synthetic opioids into the U.S. through the international mail system. More than 72,000 people died of a drug overdose in the United States last year, and the illegal smuggling of fentanyl is making that number grow. By securing the international mail system and strengthening our international postal agreements, the STOP Act will help save lives and make our communities safer.
*****
Congress and President Trump agree that we must hold China accountable for hurting U.S. companies and workers through their unfair trade practices. The President's recent announcement that the Administration will impose additional tariffs on Chinese products should increase the pressure on Chinese leaders to begin negotiations in good faith that will lead to a trade relationship that is fairer to American farmers, workers and businesses.
I continue to urge President Trump and President Xi to meet, as it's clear that is our best chance at negotiating a trade deal that levels the playing field for Americans. Until then, it's imperative for our government to establish a timely process that allows fairly traded products to be excluded from additional tariffs, so that Americans are not forced to pay extra costs and our ability to sell 'Made in America' products globally is not hindered.
*****
If you or someone you know is having trouble with a federal agency such as the Social Security Administration or Veterans Affairs, don't forget that I and my staff are here to help. In fact, your Deputy District Director, Thomas Mardik, travels throughout the month to hold office hours at locations in different parts of our district.
You can learn more about where and when Thomas will be near you by visiting kevinbrady.house.gov/contact/officeinformation.htm. You can also call our Conroe Office at 936-441-5700 and ask to speak with a caseworker.
Kevin Brady is Chairman of the powerful House Ways and Means Committee.